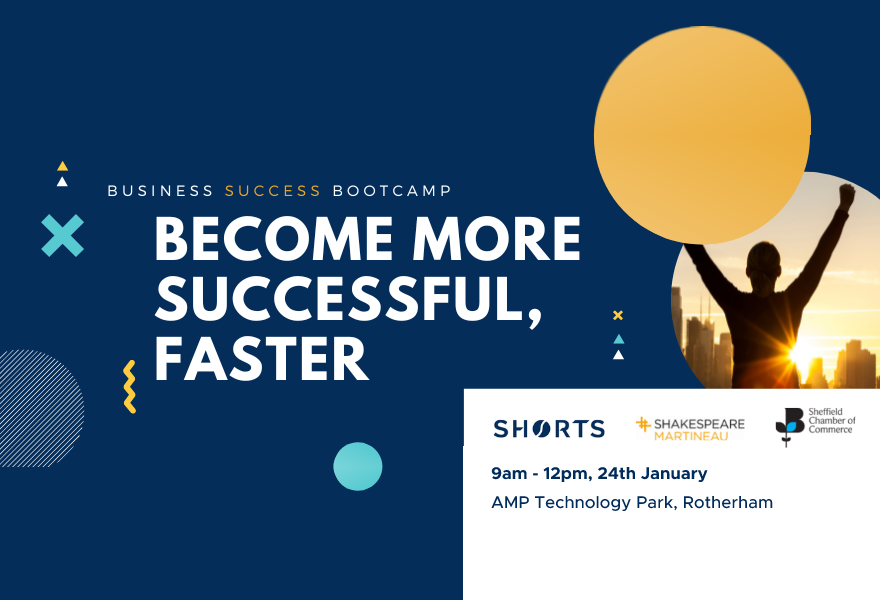 Shorts are teaming up with the Sheffield Chamber of Commerce and Shakespeare Martineau for Business Boot Camp. This is a free event for Sheffield Chamber members, where you will discover key ways to boost your profitability and the value of your business, as well as the best methods of selling it later on.
When and where is the event?
Date & Time: 9am - 12pm, on 24th January 2023
Venue: AMP Technology Centre, Advanced Manufacturing Park, Brunel Way, Rotherham, S60 5WG
About the event
This event will help ambitious, innovative businesses understand how they can become more successful, faster.

Topics covered by our panel of experts will be:
Why having good management information regarding the performance of your business is essential – and how you can obtain this valuable information.
HMRC-backed tax reliefs that reward innovative businesses can reduce your tax bills or produce tax repayments.
How intellectual property can protect and boost the performance, brand and value of your business.
The various options available when looking to sell your business – Employee Ownership Trusts, trade sales, and Management Buyouts.
Order of the event
09:00 - Arrival and networking opportunities
09:30 - Presentations begin
10:30 - Q&As and further networking
12:00 - Event ends
Register for free today
We hope you will join our Business Success Bootcamp to discover key ways to boost your profitability and the value of your business, as well as learning all about the typical methods of selling it. It's free for Chamber members, and you can register your place below.
Please note: Places are limited, so be sure to register!
Who will be speaking at the event?
Alicia Williams - Client Finance Director / Digital Improvement Lead - Shorts' Genus team
Alicia has over 10 years of experience working in accounts, having joined Shorts as a Management Accountant. Her role quickly expanded into training and implementation of Xero and add-on software for our clients.
Alicia is now Shorts' Client FD / Digital Improvement Lead and a Xero Specialist, passionate about making our client's business processes more efficient and streamlined, using her extensive experience with cloud-based accounting software.
Matt Pierce - Manager - Radius R&D Tax Reliefs team at Shorts
Matt is R&D Tax Manager at Shorts, with over 10 years of experience in R&D Consultancy and Innovation Portfolio Management roles.
Matt has extensive experience in R&D Tax Relief and Patent Box Tax Relief, supporting innovative UK businesses across a wide range of sectors. Allowing companies to better understand R&D Tax Credit Legislation, how they may utilise R&D and Patent Box Tax Relief, and supporting them in the development of both technical and financial claim submissions against their Research and Development activities.
Kerry Russell - IP Lawyer, Shakespeare Martineau
Kerry is a solicitor specialising in Intellectual Property. Her IP expertise centres around contentious IP disputes relating to patents, trade marks, passing off, design rights, copyright and confidential information.
Kerry has experience with issues ranging from, complex disputes involving ownership of copyright subsisting in software code, and rights in databases (including copyright, database right and confidential information) to experience with non-contentious IP, including drafting collaboration agreements, IP licences and assignments, advising clients in relation to confidentiality agreements and advising on IP aspects of corporate transactions.
Kerry is also experienced in drafting and advising on IT contracts; including drafting/reviewing supply agreements for telecoms re-sellers, software development agreements and Software as a Service (SaaS).
Martin Dean - Corporate Finance Senior Manager, Shorts
With over 10 years of experience in practice, Martin has significant Corporate Finance experience having been involved in disposals to both trade buyers and via Employee Ownership Trusts, acquisitions, Management Buy Outs/Ins, Financial Due Diligence, valuations, business plans, and forecasting.
Martin forms a key part of Shorts' award-winning Corporate Finance team, taking a lead role in client projects alongside the Corporate Finance Partner and Corporate Finance Director.
Martin was shortlisted for Emerging Dealmaker of the Year at the Insider Dealmaker Awards 2021.
How to find the event