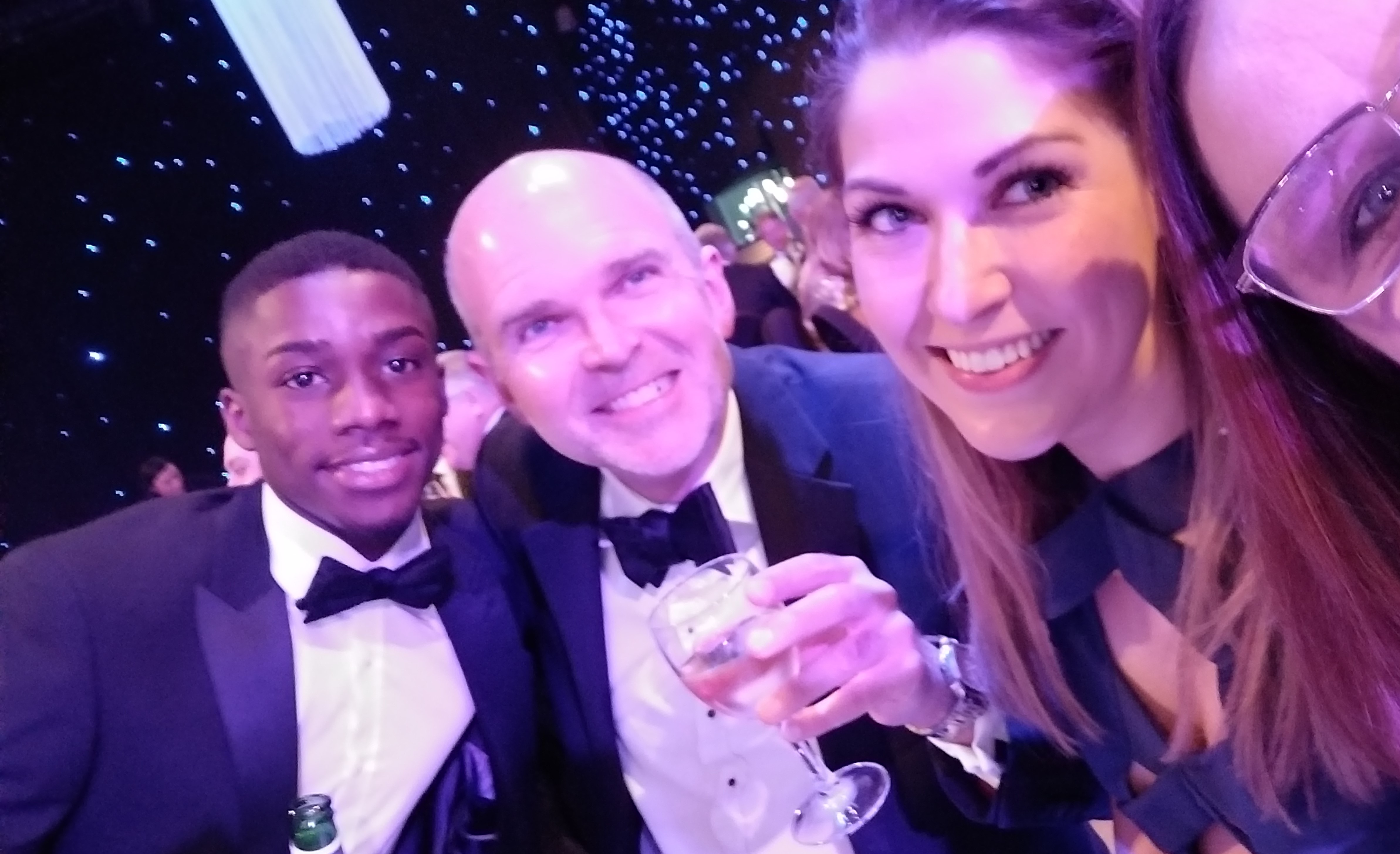 Temi Ayodeji recently completed a placement year with us, being the third year of a four year Philosopy with Economics degree course at the University of Sheffield. At the end of his placement, we asked Temi to put together a short blog, covering his thoughts and experience during the time spent with us. Here, in Temi's own words -
Why did I take a Placement Year?
One of the major reasons I chose my course at the University of Sheffield was because it had the option of a placement year. I always knew I would exercise this opportunity after the penultimate year of my degree. A placement year provides me with the chance to put the knowledge I learn at University to use as well as gain some useful experience in the workplace, most importantly, it helps provide further clarity to the future career path I wish to pursue. Moreover, I would graduate from University with employment experience, which would leave me better prepared for the professional world.
Why Shorts?
It sounds cliché, but when I saw the opportunity to work in the Corporate Finance department, I knew it was for me. A few of the Companies I had applied for and had offers from were much larger and universally known. However, I really wanted to get the best out of my Placement and so I welcomed the chance to work in a smaller firm that had a good reputation and was still considered large within its own region. My reasoning for this, was knowing I could potentially work more closely with the staff in the department and in the other services across the firm, allowing me to soak up every bit of knowledge throughout. Furthermore, I was aware Shorts was experiencing great levels of growth in the last few years and it would be exciting for me to be a part of that going forward.
What did I expect?
Having little employment experience and no prior knowledge of Corporate Finance , I was very eager to learn what the job is and what my role entailed. Having looked at the work that goes on within the profession I was very excited to begin. And so, I expected to work hard within my role, but also enjoy and appreciate the challenges I faced having not done any sort of Corporate Finance before.
What have I learnt?
When I think back to my first day when I was a mixture of nerves and excitement, I have learnt a vast amount. From picking up on mere technical terms and working on several deals throughout the year, I've managed to grasp what Corporate Finance is. I've enjoyed meeting the very clients we work for which has helped me gain a greater understanding of my specific role within a transaction. This was of added benefit to myself as engaging with them has helped improve my communication skills, something that will be useful when I go back to University for my final year and throughout my working life.
I have thoroughly enjoyed my year in the Corporate Finance team; working closely with Martin Dean, Adam Ames, Ellie Wilcockson and Andy Ryder has allowed me to gain an insight into their various job roles and has only strengthened my desire to pursue a career path in a similar area. I genuinely couldn't speak higher of them, before their expertise and qualifications they are fantastic people and it's clear to see that. The scope of work I've had this year has covered a wide area of Corporate Finance and that has contributed heavily to how much I've enjoyed working alongside them. I particularly appreciate being invited in meetings where we'll meet banks, private equity investors, funders and so forth; just sitting in on them has given me insight on how individuals in different professions can work together to achieve a goal. I've also been fortunate enough to attend several networking events, meeting and talking to a variety of professionals from all over Yorkshire, something that I may never had the opportunity to do elsewhere. An obvious highlight for me was attending the Yorkshire Accountancy awards in May, representing the Corporate Finance department with Martin.
Overall, I've loved my time at Shorts; and outside of work has been great too - being part of the football team (a passion of mine that I continue) that has entered a few tournaments over the year and takes part in the Sheffield Corporate league every Tuesday has been incredibly fun. I've also continued keeping fit and healthy by being part of the running club throughout the year – we ran the Sheffield 10K in September and that has been one of my personal highlights whilst on Placement. I genuinely couldn't ask to work with a nicer group of people for the last 14 months, my time here wouldn't have been half as good if not for them.
Best wishes for the future
Corporate Finance Partner, Andy Ryder commented " Temi joined us a Corporate Finance Research executive - the first time we have used a placement student for this role. He quickly settled in and impressed the whole team with his enthusiasm, hard work and "can do "attitude. All the aspects of the job were new to him, but he has made a very valuable contribution and shown a great maturity and professional attitude which has enabled him to gradually take on more responsibility as the placement has progressed. It has been a real pleasure to have him as part of the team and he leaves with our very best wishes for the final year of his degree and in his future career."
A selection of photographs from Temi's year with Shorts.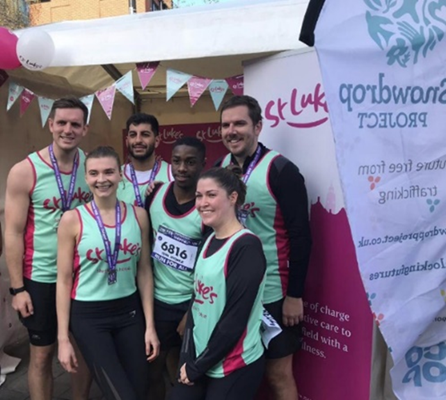 Sheffield 10k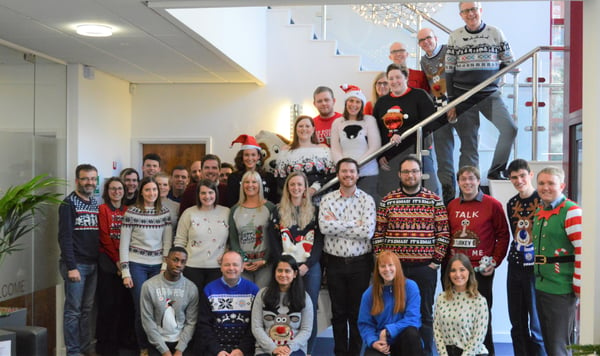 Christmas Jumper Day 2018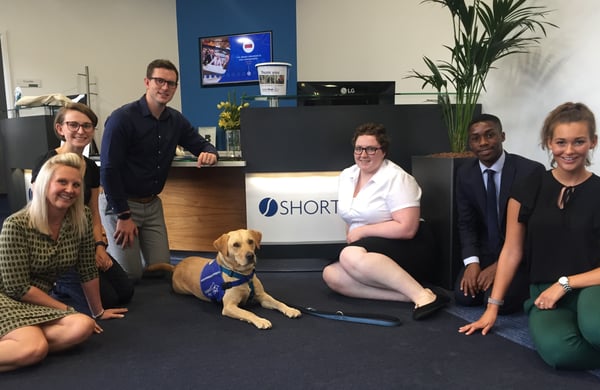 Visit from Support Dogs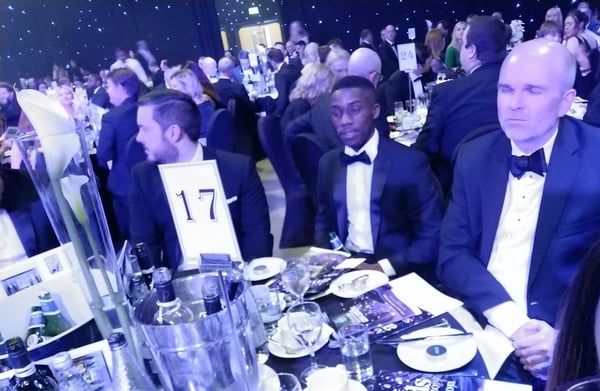 Yorkshire Accountancy Awards 2019
Other news: