The role of Finance Director and CFO is changing. There is a recognition of the unique, data-led insight a Finance Leader can bring to strategic planning and formation of a company strategy.
Much has been written about the importance of becoming this heralded figure within a company, but not enough has been said about how to practically do it.
If you missed our recent webinar with Lucidity on the subject of Driving Strategy as a Finance Leader, you can watch the whole thing below, or read on for the key takeaways.
Adding business value as the finance leader
There are several different models and approaches to company strategy, each with their own characteristics, and each receiving a great deal of analytical attention from experts.
The model we are looking at today starts with an element of analysis, which all good strategies should do too.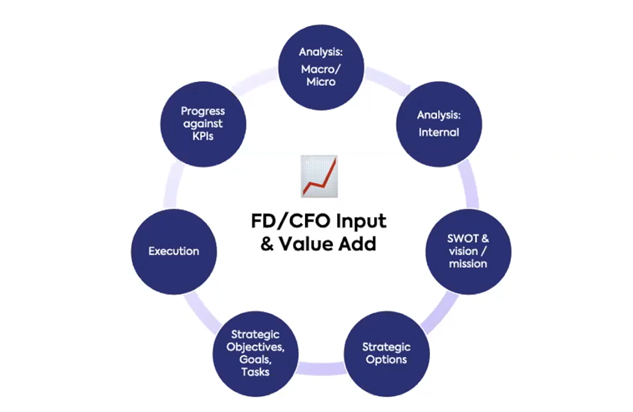 | | |
| --- | --- |
| Stage | What it means |
| External Analysis | This analysis covers trends in the market, understanding competition, gauging customer spending, and researching competitor financial assets and capabilities. |
| Internal Analysis | Internal analysis includes understanding financial performance at each level (such as product, service, market), analysing financial assets and capabilities, as well as understanding the financial positions of suppliers and/or partners. |
| SWOT Analysis | Developing a precise and balances summary of your analysis, with a clear vision/mission as a result. |
| Strategic Options | This is the development of strategic options which consider all relevant aspects of the analysis, each with top-level forecast and subsequent precise appraisal. |
| Strategic Objectives, Goals & Tasks | Develop SMART objectives and detailed goals, budgets, and related tasks. |
| Execution | This includes communication to stakeholders, deployment of adequate resources, intent, and focus. |
| Progress against KPIs | This is establishing KPIs for each part of the organisation, and ensuring appropriate reporting systems and processes. |
CASE STUDY:

How Finance Leaders make a difference
For our case study, we are looking at a Software SME which was distressed but turned around as part of a recovery process including the introduction of a Finance Leader.
The strategy that was executed took this company upwards, making them a £10m market leader, trading in 14 countries, including the UK, US and Canada. The company was even named in the Times Top 100 SME and Great Place to Work four times apiece.
Building a successful strategy

For something so integral to a company's success, strategy itself is not that complicated. A strategy can be split into four key tiers:
Strategy Vision: Where do you want the business to be at a given future point?
Strategic Objective: Big, important things that are key to supporting this vision (between 3-6 of these is recommended)
Goals & KPIs: These are the individual successes which make the strategic objectives happen.
Tasks: The work that goes in to achieving the goals.
How a Finance leader applies strategic focus
Unfortunately, it is not possible to do everything! The most robust strategic vision can be quickly undone by attempting to do too much with too little resource, money, or staff.
A CFO or Financial Director has a key role at this point in a strategy. You will need to stop doing certain things to enable you to start other things – this decision will ultimately come down to money.
CONTINUE
STOP
START
- Good/high revenue
- Good/high profit
- Flat to Growth
- Healthy customers
- Non-toxic
- Low/Med Competition
- USP or defence
- Low revenue contribution
- Low profit
- Low growth
- In decline longer term
- Resource intensive for you
- Difficult in some way
- Any toxicity for your business
- Highly competitive
- No USP
- Substantial revenue possible
- Good/High profit
- Mid to long term growth
- Healthy customers segment
- Non-toxic for your business
- Low/Med Competition
- USP
- Competitive advantage to be gained
Avoiding strategic errors
When deciding what to stop, you must be objective and brave to ensure the right decisions are made in the right way. A finance leader has a very important role to play here. When starting a new activity, a finance leader must also make sure it is funded properly.
For more information on developing and enabling a business growth strategy, you can watch our previous Business Growth webinar in full below.
The characteristics of a great Finance Leader
A financial leader is an invaluable asset to a business and, in particular, its CEO. But what characteristics should a good finance leader possess?
Ownership: A finance leader must take ownership and responsibility for strategy.
Process Driven: They must come up with a process that works for the team and the business.
Knowledge: It is crucial that a finance leader understands all key aspects of the business.
Organisation: They must recognise it's a marathon, not a sprint. Processes must be planned to be sustainable.
Facilitation: A good finance leader will facilitate, not direct. A team is smarter than an individual.
Planning: They must offer clear and easy to use planning, with accountability not ambiguity.
Funding: They must deliver Stop/Start/Continue strategy and fund initiatives properly and realistically.
Monitoring: They must also enable (at least) monthly progress reporting.
Removal of Friction: Friction kills strategy. A good finance leader will provide a single platform, with good tools that are coherent and easy to use.
Need help growing your business? Genus can help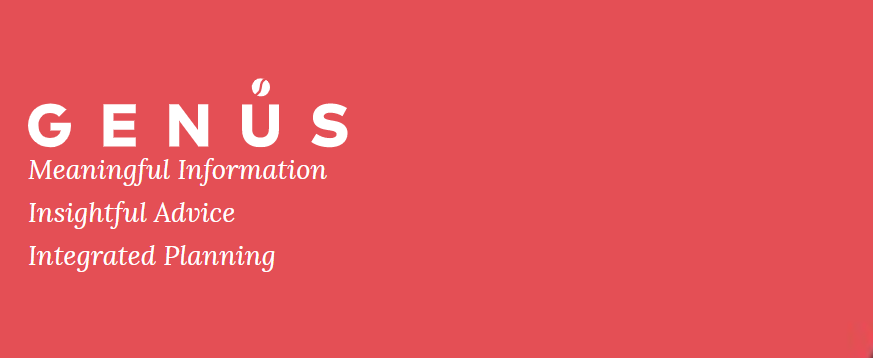 The Genus team at SHORTs offers businesses insightful advice, integrated planning solutions and meaningful management information.
Genus tailors specific solutions for your business, crafted together from a range of the world's leading software packages and recognises that, as businesses grow and develop, the level of support they need increases.
Get in touch with Genus today and see how the team can help you develop a growth strategy that is clear, effective, and sustainable.
Gain a competitive advantage with the latest business strategy software from Lucidity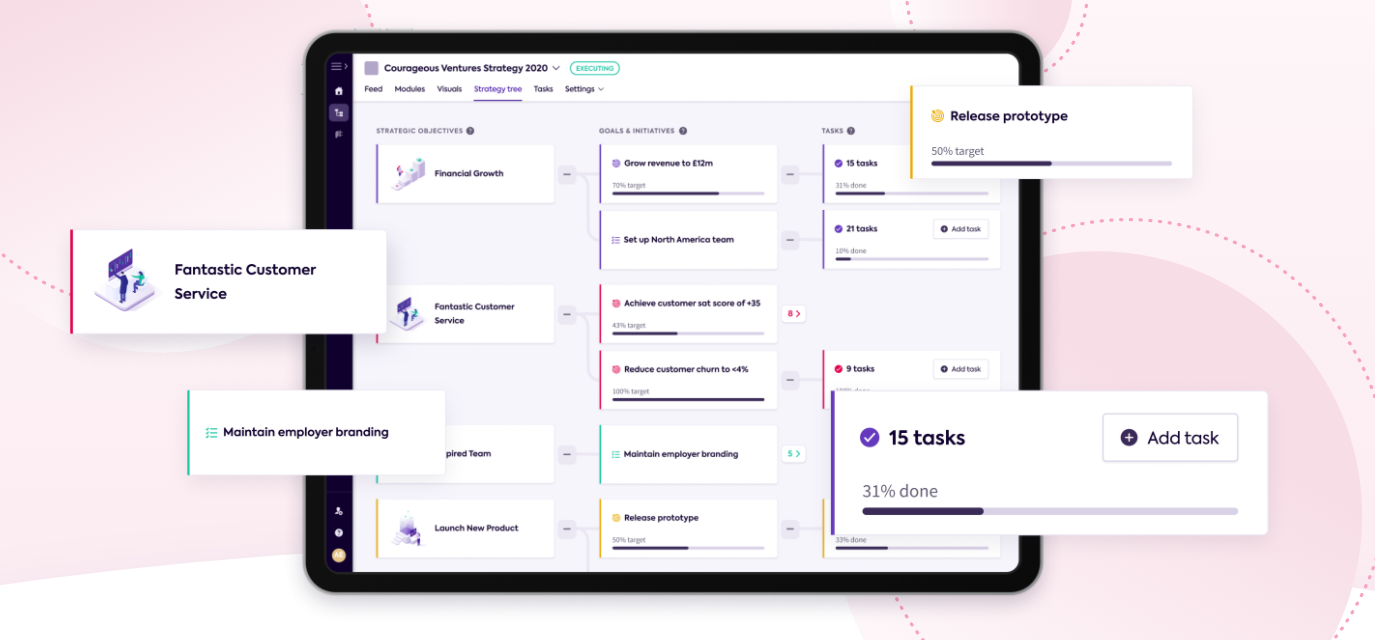 Lucidity is a software platform that you can use to help you better understand your market, build and execute a smart and sustainable business strategy, align your team to strategic goals and monitor progress against KPIs and SMART targets.
Get in touch with the team at Lucidity today to see how they can help.