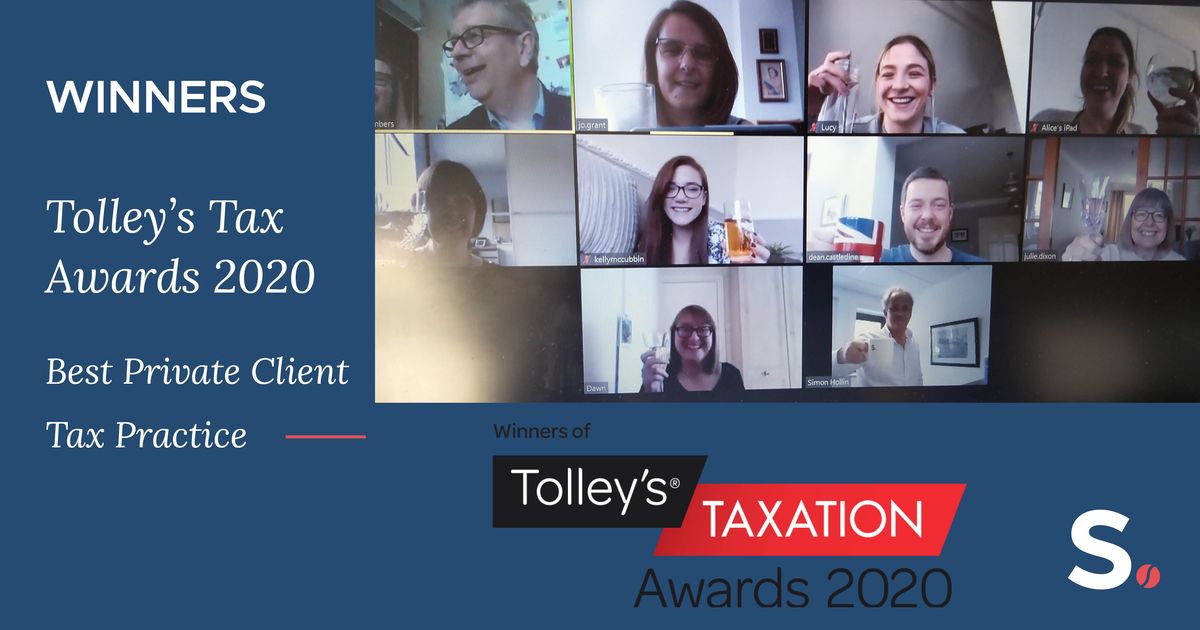 We are absolutely thrilled to have been crowned Best Private Client Tax Practice in the prestigious 2020 Tolley's Taxation Awards. With the current COVID-19 situation meaning that the usual black tie award ceremony was not possible, this year's event was held online and our team joined in to watch through Zoom together as the results were announced. With so very little good news in the press at the moment, we are extremely proud that the hard work of our team has been recognised in this way.
These highly regarded awards continue to recognise the finest achievements and talents of remarkable individuals and teams across the entire UK tax profession. Winning or being a short-listed Finalist for a Tolley's award brings prestige to any team and shows recognition from a first-class judging panel. We are thrilled to have been recognised as Finalists for two consecutive years, and understand that the competition in this category was tremendously fierce with some exceptional talent amongst the final shortlist.
Best Private Client Tax Practice
This category was open to practices of all sizes across the UK, and the winning firm has provided sufficient evidence and documentation to provide the judges with a clear picture of their business and the service provided to clients.
Senior Partner and head of Shorts' Private Client practice, Chris Chambers commented "This is a significant achievement for Shorts, which is made even more special coming in the year that we mark our 130th Anniversary. It felt a little strange that we couldn't come together as a team and celebrate our achievements in the usual way, but I was delighted that everyone was able to join together and share the news online - and we will celebrate later in the year, when this is possible."
"I remain intensely proud of the team we have built at Shorts, and winning the award for Best Private Client Tax Practice backs up my firm belief that the service we provide for our clients is exemplary. The Tolley's Taxation awards are regarded as the Industry's Elite, recognising the very best and we are absolutely delighted to be Finalists for the second year running - winning it this year is phenomenal."
There were five teams on the shortlist this year, of varying sizes and in the end, the judges chose the winner who showed that a regional firm with a passion for excellence, can compete at the highest level.
You can view the entire Tolley's Awards ceremony here. (with the Shorts winning catgegory at 06.55). If you'd like to speak to a member of our award-winning team, then please do not hesitate to get in touch.
Other recent articles;